Lorraine Hansberry – Playwright for A Raisin In The Sun. She was the first African American playwright to make it on Broadway! She was also the first African American dramatist to win New York Drama Critics' Circle Award. She studied at UW-Madison for 2 years before making it on Broadway.
Shirley Abrahamson – The first woman to head the court in Wisconsin when she became the chief justice in 1996. She was originally appointed to the Wisconsin Supreme Court Justice in 1976. She attended UW-Madison Law School.
Carol Bartz – Former CEO and president of Yahoo! She graduated from UW-Madison with a degree in Computer Science.
Laurel Clark – U.S. Navy Captain, medical doctor, undersea medical officer, flight surgeon, space shuttle mission specialist and NASA astronaut. She died in the space shuttle accident known as the Columbia disaster. She received the Congressional Space Medal of Honor. She studied at UW-Madison and earned a bachelor of science in zoology and a doctorate in medicine.
bell hooks – Author of Ain't I a Woman: Black Women and Feminism. She is an inspirational and influential author whose books explore the relationship between gender, race and feminism. She received an award for Yearning: Race, Gender, and Cultural Politics. She attended UW-Madison and received her master's degree in 1976.
Jane Kaczmarek – A Golden Globe and Emmy Award nominated actress who has starred in Frasier, Malcolm in the Middle, The Simpsons, Law & Order, The Middle, Phineas and Ferb, Jake and the Never Land Pirates, The Big Bang Theory, This Is Us. She graduated from UW-Madison with a degree in theater.
Vel Phillips – In 1951, she was the first African American woman to graduate from the School of Law at UW-Madison. She was an attorney, Civil Rights activist, politician, Milwaukee judge and Wisconsin's first African American Secretary of State.
Virgil Abloh – Artistic director of men's wear collection for Louis Vuitton. He's well known for his collaboration with Kanye West and was named one of the World's 100 Most Influential People in 2018 by Time magazine. He graduated from UW-Madison in 2002.
Conrad Elvehjem – He was the president of the University of Wisconsin from 1958 until 1962 when he passed away. He was known internationally for being a biochemist focusing on nutrition and researching vitamin B complex. He identified 2 vitamins, nicotinic acid and nicotinamide. These vitamins together are termed vitamin B3. He graduated with his Ph.D. from UW-Madison in 1927.
Karl Paul Link – He was a biochemist and researcher at UW-Madison who discovered the anticoagulant warfarin. This is used to prevent blood clots from forming in blood vessels. President Eisenhower was the most famous early patient to be helped by warfarin. He graduated from UW-Madison with a Ph.D. in agricultural chemistry in 1925.
James Lovel – Commander of the Apollo 13 mission, former NASA astronaut and retired US Navy captain. He is the first person who flew in space 4 times and the first of only 3 people to fly to the moon twice. He was the only person to fly to the moon twice without making a landing. He studied at UW-Madison for 2 years then transferred to the U.S. Naval Academy.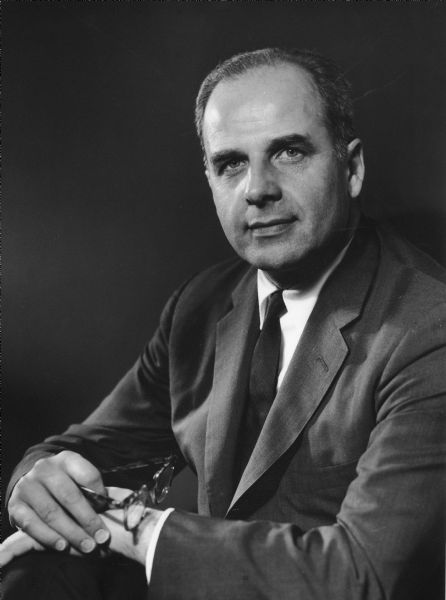 Gaylord Nelson – UW-Madison Law School graduate was the founder of Earth Day, former Wisconsin governor, lawyer and U.S. senator. He was an environmentalist that catalyzed a new wave of environmental activism. On April 22, 1970 millions of Americans gathered to challenge ecological issues and demand action from elected officials and the public. This date is still observed and celebrated by people across the globe. For his role in founding Earth Day, in 1995, President Bill Clinton awarded him the Presidential Medal of Freedom which is the highest honor a US civilian can receive.
Steve Bornstein – former executive vice president of media for the NFL and CEO and president of the NFL Network. In 1974, he graduated from UW-Madison with a degree in communications.
Ron Dayne – He won the 1999 Heisman Trophy by setting an NCAA rushing record for total yards during his time as running back for the UW Badgers, as well as, Big Ten Player of the Year. He received MVP honors and consecutive Rose Bowl wins. His name and #33 are one of six displayed on Camp Randall Stadium's upper deck façade. He played in the NFL for 7 years with the Houston Texans, Denver Broncos and New York Giants.
George Poage – A track star from UW-Madison was the first African American athlete to win an Olympic medal! He earned 2 bronze medals in the 1904 Olympic Games for the 200- and 400- meter hurdle races.
Frank Lloyd Wright – A creative architect who designed over 1,100 unique architectural structures, one of which is the Monona Terrace Convention Center. What is known as 'Prairie style' became the foundation of 20th century residential design across the US. One of his most famous works is the Imperial Hotel in Tokyo, Japan. He attended UW-Madison briefly but left before finishing his degree. He was awarded an honorary doctorate by the university for fine arts in 1955. At the time, UW-Madison didn't offer any architecture classes so he studied engineering.